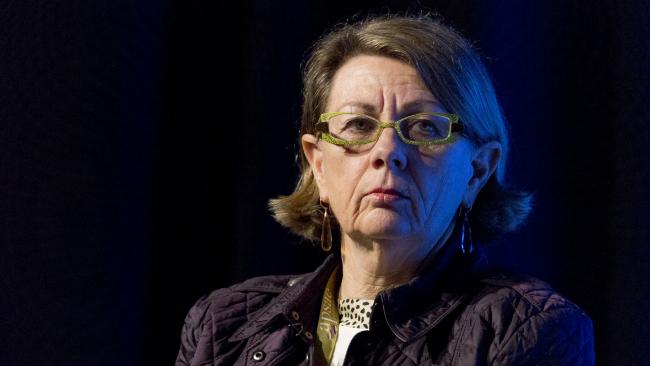 The chief of the NSW corruption watchdog was under pressure last night to step down after the ­collapse of relations with the agency's independent inspector, who found she had abused her power and oversaw unlawful ­conduct.
NSW Premier Mike Baird said a damning report produced by the ICAC inspector, former Supreme Court judge David Levine, into the watchdog's pursuit of prosecutor Margaret Cunneen SC raised "very serious" issues relating to the use of its "extraordinary powers".
The Premier's intervention came as members of the NSW parliament's ICAC oversight committee called on the watchdog's commissioner, Megan Latham, to step down. She will be called to appear at a public hearing to explain the agency's ­actions. "I don't think she has any choice, she should stand down," committee member and deputy president of the legislative council Trevor Khan told The Weekend Australian.
The Nationals MP added that Mr Levine's audit was "one of the most devastating reports that you could see delivered". "It found abuse of power, maladministration in the performance of ICAC and it also indicates bias," Mr Khan said.
The sentiment was echoed by at least four of the committee's 11 members. Mr Levine's report followed an investigation by The Australian into ICAC's conduct, which included revelations that the anti-corruption body had seized mobile phones unlawfully, sought a search warrant for phones ­already in its possession and leaked Ms Cunneen's private text messages to her boss.
Following his own five-month investigation, Mr Levine detailed evidence of what he said was unlawful conduct, serious maladministration and abuse of power during ICAC's investigation of Ms Cunneen.
In his report, Mr Levine reproduced toxic correspondence ­between him and the commissioner, revealing a collapse in their relationship. He said he considered one letter from Ms Latham to be "as insulting as it is disingenuous and as reflecting a total lack of understanding of the role of the inspector".
But a defiant Ms Latham hit back late yesterday, saying she did not accept his remarks that she had displayed an "insulting, condescending, insolent or arrogant" attitude. In a tersely worded statement, she accused the inspector of legal and factual inaccuracies.
In his 96-page report, Mr ­Levine revealed that Ms Latham authorised the unlawful seizure of Ms Cunneen's mobile phones using a "notice to produce", with ICAC later obtaining a search warrant for the mobile phone it had already obtained.
The report confirmed that ICAC officers visited Ms Cunneen's home with a video camera to record the "seizure" of the phone after it had been in its possession for about a week.
Mr Levine also found ICAC gave 2274 pages of text and other format messages from Ms Cunneen's mobile phone, dating back to 2005, to her boss, the Director of Public Prosecutions Lloyd Babb, in a serious breach of privacy. The report said Mr Babb was in "an acute position of conflict of interest" because he had to determine if Ms Cunneen should face disciplinary action over text ­messages sent in 2012 in which Ms Cunneen had criticised his performance in court.
The report called for a series of changes to ICAC's internal decision-making system to ensure there was no repeat of the Cunneen inquiry, which he described as "unreasonable, unjust and ­oppressive".
Mr Levine wants a new provision inserted into the ICAC Act to ensure all referrals of matters to other agencies must be in writing.
ICAC launched an investigation into advice Ms Cunneen ­allegedly gave to Sophia Tilley, the girlfriend of her son, Stephen ­Wyllie, after a car accident on May 31 last year.
The investigation began after a telephone intercept by a commonwealth agency, which was handed to ICAC. The report showed there was internal conflict at ICAC about whether the investigation was warranted.
It said Robert Waldersee, ICAC's executive director of corruption prevention, wrote: "I struggle to see that it is of a seriousness to meet the intent of our act, and it certainly is not systemic."
Mr Levine found the material supporting the allegation against Ms Cunneen was weak and the issue could safely have been left to the DPP. After the High Court ordered the inquiry stopped in April this year, ICAC did refer its material the DPP but it then issued a 622-word media release which Mr Levine described as "an indictment".
The media release said ICAC's evidence "indicated an attempt to pervert the course of justice by Ms Cunneen".
"It was a last ditch stance of ­defiance and the tenor of the publication reflects a concluded view on the part of ICAC on whatever Ms Cunneen and others had said or done that reflects poorly on its standing and objectivity,'' Mr ­Levine said. "Nothing like it must happen again."
Ms Latham hit back at Mr ­Levine's finding that it had been a conflict of interest for her to oversee the investigation as she had been an acquaintance of Ms Cunneen for 25 years. He said they had worked together in the same office years ago, Ms Cunneen's partner was Ms Latham's son's taekwondo instructor and Ms Latham's personal trainer lived next door to Ms Cunneen. "The commissioner's son has never been instructed in taekwondo at all and does not know Ms Cunneen or her partner or any member of her family," Ms Latham said, in a denial rejected by Ms Cunneen, who said her partner Greg Wyllie gave the lessons at Cammaray Public School.
Ms Latham said Mr Levine had "misunderstood" a section of the ICAC Act relating to whether ­material referred to the DPP was permitted.
(WTF) Used with permission.