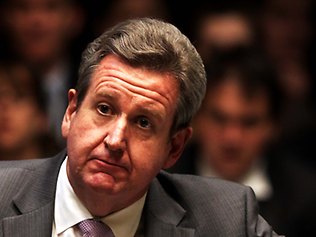 Claims by American investors for more than $90 million in compensation for the ICAC-driven expropriation of US assets will dominate free-trade talks in May.
US investors are furious their equity in NuCoal Resources was rendered almost worthless when the government of former NSW premier Barry O'Farrell, at the urging of the Independent Commission Against Corruption, cancelled its coal exploration licence. The US investors have ­persuaded the office of US Trade Representative Michael Froman to take up their grievance by arguing that the expropriation breaches a treaty guaranteeing US assets will not be taken without due ­process and is followed by prompt and ­adequate compensation.
NSW has left Canberra vulnerable to ­accusations Australia has broken the "due process" ­provision of the Aus­tralia-US Free Trade Agreement. If the talks result in compensation for the Americans, it will open the door for a wave of claims by Australian investors in NuCoal who lost another $200m. The American Chamber of Commerce in Australia said the dispute had been the subject of discussions with the Department of Foreign Affairs and Trade and would be the main issue at talks.
"I have spoken to the US Trade Representative and they take this thing dead serious," said AmCham Australia chief executive Niels Marquardt. "AmCham had talks with DFAT in Canberra a few weeks ago and made clear that this is a ticking time-bomb." He said the investment climate in Australia was among the best in the world "but then something like this comes along and it makes you rethink everything".
The company lost its licence in January 2014, when NSW enacted the Mining Amendment (ICAC Operations Jasper and Acacia). Mr O'Farrell ­rejected ICAC's recommendation innocent parties should be compensated.
NuCoal says that after the ­expropriation, the value of the company fell from about $300m to $15m, leaving the US investors with a loss of more than $90m. NuCoal chairman Gordon Galt said the talks scheduled for May 4 could result in moves by the US government for Australia to agree to independent arbitration of a dispute. "My investors want full compensation — to the full extent of the law," Mr Galt said. "It can happen in one of two ways: an arbitration case or we could be made an offer … They are the only two things that would ­result in our US shareholders being compensated."
About 30 per cent of NuCoal's capital is held by US institutions while about 2900 Australians — principally individuals — hold the rest. Among the biggest losers from the expropriation were Boston-based Sparta Group, which manages a global investment portfolio, and investment holding company Ventry Industries based in western Massachusetts. Both companies have been campaigning for compensation for more than two years and have been taking advice from the Sydney office of US litigation law firm Quinn Emanuel Urquhart & Sullivan.
Quinn Emanuel Sydney partner Michael Mills said NuCoal's experience reflected "a very real and growing sovereign risk for domestic and foreign investors in Australia".
Chris Merritt- The Australian.
(WTF used with permission)