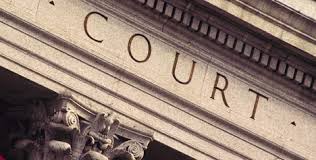 Two former members of the NSW parliament have called for an inquiry to determine how the state's anti-corruption agency made critical legal errors that led to the destruction of their political careers.
Their calls have been triggered by a legal opinion from the Crown Solicitor's office that has the effect of undermining damning accusations about the conduct of former Liberal MPs Chris Spence and Darren Webber.
Those accusations, by the Independent Commission Against Corruption, were based on a view of the requirements of the state's electoral funding law that is at odds with an opinion from the NSW Crown Solicitor's office.
Mr Spence and Mr Webber say the Crown Solicitor's advice means their careers were destroyed because ICAC misinterpreted the law and accused them of trying to evade the law and hide political donations.
They had argued before ICAC that the payments being examined by that agency were not political donations — a view that has now been endorsed by the Crown Solicitor.
Both men left parliament after ICAC raided their homes and accused them of wrongdoing during a public hearing in 2014. Mr Spence now runs a cleaning business while Mr Webber is a security officer.
While the veracity of ICAC's accusations is now in doubt, Mr Webber said he found it infuriating that this had happened only after he had lost his political career, been rendered unemployable for a time and had moved to another city to start a new life.
"Why didn't ICAC have this sort of advice?" Mr Webber asked.
"It is all very well for former ICAC commissioner Megan Latham and former counsel assisting Geoffrey Watson SC to move on with their lives but my life has been destroyed."
Mr Spence said an inquiry was needed to determine what advice ICAC took on the issues that have been placed in doubt by the Crown Solicitor's advice.
He believed the Crown Solicitor's advice "flies in the face of ICAC" and will need to be addressed by the three new commissioners who are expected to be appointed to the commission, as well as the agency's next inspector.
In its report from an inquiry known as Operation Spicer, ICAC found that Mr Spence had acted with the "intention" of breaching laws that require the disclosure of political donations, and which ban political donations from property developers.
Mr Webber, according to ICAC, had the "intention" of evading the law requiring the disclosure of political donations.
However, the Electoral Commission issued a statement on January 9 that indicates the Crown Solicitor believes payments received by Mr Spence and Mr Webber did not meet the definition of political donations as outlined in the state's electoral funding law.
ICAC had found that the payments to Mr Spence and Mr Webber had originated with three companies — Australian Water Holdings, Gazcorp and Patinack Farm — and had been channelled through a business known as Eightbyfive whose principal was Tim Koelma.
But the Crown Solicitor's advice is that there is insufficient evidence to prove that these companies met the definition of property developer in the Electoral Funding, Expenditures and Disclosures Act.
This is at odds with ICAC's assertion in its report from Operation Spicer that Gazcorp is a property developer and is therefore banned from making political donations by NSW law.
While the Crown Solicitor's advice only refers by name to Mr Spence and Mr Webber, the finding that Gazcorp is not a property developer appears to undermine adverse findings against several other people in ICAC's Spicer report.
The Electoral Commission has declined to make the advice public, but a summary outlined in its January 9 statement appears to raise doubts about findings that relate to former Liberal minister Chris Hartcher, Eightbyfive's Mr Koelma as well as members of the family that owned Gazcorp, Nabil Gazal Jr and Nicholas Gazal.
According to the Spicer report, all these people were "party to an arrangement" in which Gazcorp made payments of $121,000 to Eightbyfive that were intended "to evade the disclosure requirements of the Election Funding Act and the ban on the making and accepting of political donations from property developers" .
While Gazcorp is active in the property industry, the Crown Solicitor's advice, as summarised by the Electoral Commission, says there is insufficient evidence to prove that the company met the statutory definition of property developer. This is in line with submissions from Mr Spence that were provided to ICAC in November , 2014 — almost two years before the Spicer report was made public in August last year.
Mr Spence's submissions said the evidence "falls way short of establishing that Gazcorp's business regularly involved making" development applications.
It had been established that Gazcorp had only lodged two or three development applications in the previous six years. In the two years before the Spicer inquiry, Gazcorp had lodged just one development application, the submissions said.
"If Gazcorp was not a prohibited donor, the asserted purpose of the (unidentified) alleged unlawful acts (conspiracy) involving Mr Spence is, namely, baseless speculation , innuendo and smear," his submissions said.
Those submissions, drawn up for Mr Spence by solicitor Manny Conditsis, rejected the arguments of ICAC's Geoffrey Watson SC.
Mr Conditsis wrote that Mr Watson's submissions were unfair and lacked balance. They reflected "unjustified contempt of many witnesses, and in many instances are so misconceived and fundamentally flawed that the commissioner cannot adopt or accept them, certainly not in respect of Mr Spence" .
While the Crown Solicitor believes Gazcorp does not meet the legal definition of property developer , the advice also says there is insufficient evidence to prove that certain payments received by Mr Spence and Mr Webber were political donations.
This indicates that those payments were outside the scope of the electoral funding law that formed the basis for the Spicer inquiry and the adverse findings against Gazcorp and the Gazals.
The Crown Solicitor's advice means doubts now exist about an entire chapter of the Spicer report that is devoted to the question of whether Gazcorp's payments to Eightbyfive were "a means for disguising the receipt of political donations from a property developer" .
"The commission is satisfied that Gazcorp was a property developer ," ICAC decided.
Another chapter of the Spicer report is also in doubt. It relates to payments to Eightbyfive from Patinack Farm, a horse stud that was owned by bankrupt businessman Nathan Tinkler.
ICAC found that these payments were political donations and were part of an arrangement to evade the electoral funding law and help Mr Webber's 2011 election campaign. The Crown Solicitor disagrees.
This raises doubts about the legal basis for ICAC's finding that several people were party to what that agency believed was an attempt to use the Patinack Farm payments to evade the law.
Those people are Mr Hartcher, Mr Koelma, Troy Palmer, who was chief financial officer of the Tinkler Group, Darren Williams of Mr Tinkler's company Buildev, and former police minister Mike Gallacher.
Mr Gallacher has been on the crossbench since being accused during the Spicer inquiry of corruption — an allegation that the commission never substantiated.
The Spicer report says Mr Gallacher , like Mr Spence, "intended" to evade electoral funding laws relating to the disclosure of political donations and the ban on donations from property developers.
At her first press conference as NSW Premier, Gladys Berejiklian was asked last week about Mr Gallacher's future and said information had come to light in recent weeks "and I will have more to say about that" .
'My life has been destroyed'
Chris Merritt
Legal Affairs Editor – The Australian
(WTF) – used with permission