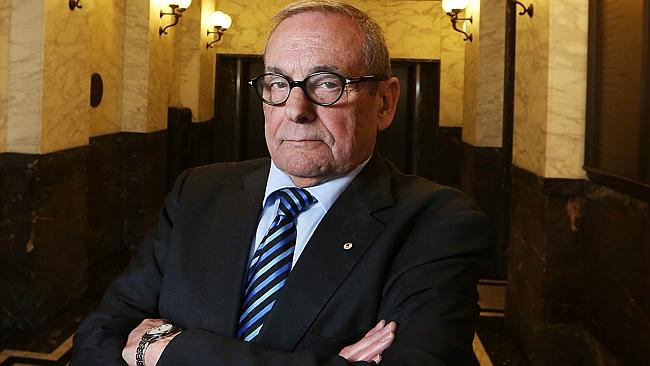 Prejudice: Chris Merritt,  The Australian, November 06, 2015
When David Levine examined the horrific way in which the NSW justice system treated Newcastle businessman Andrew Poole he did not mince his words.
"This outcome represents the dysfunctionality and contradictions that exist in the environment of corruption and investigation in this state," said Levine who is the independent ­inspector charged with dealing with complaints about the ­Independent Commission Against Corruption.
His words struck a chord with ICAC's other watchdog, Damien Tudehope, who chairs the committee of the NSW parliament that oversees the anti-corruption agency.
The inspector's assessment was in line with Tudehope's growing discomfort about the damage this organisation is inflicting on innocent people.
What happened to Poole is worse than what happened to prosecutor Margaret Cunneen SC. At least Cunneen managed to end ICAC's folly at an early stage. Poole's vindication came years after this government agency ­inflicted massive damage on his business career.
In 2013, ICAC damned him in the strongest possible terms and posted its findings on its website where they remain. But as Levine points out, that assessment has not been supported by the justice system.
When asked about Levine's ­remarks on the Poole case, Tudehope said he wanted Poole to write to him and if he sought an inquiry, Tudehope was prepared to put it before his committee "and I think we should embrace it".
As things turned out, Poole has been thinking along the same lines and has prepared a submission for Tudehope (see ­accompanying article).
In 2013 ICAC produced a report that said things about Poole that, when judged by the legal standards that apply in NSW, have been found to be wrong.
It trashed his reputation as a company director and said he had been "intentionally dishonest or, alternatively, reckless and failed to discharge his duties in good faith and in the best interests" of his company.
It said he was corrupt and had engaged in conduct that would justify criminal charges.
Yet when the same facts were examined by the Director of ­Public Prosecutions and the NSW Supreme Court they sided with Poole.
Tudehope is worried that even after Poole's victories discredited that 2013 report it is still on display on ICAC's website where it can be found by anyone looking in to Poole's background.
Those who are prepared to look very carefully might find this single paragraph tucked away in a separate summary: "On 17 July 2015, the DPP advised that there was insufficient evidence to ­proceed with charges against Mr Poole. The DPP's advice has been accepted by the commission." ­Accepted? If that's true, much more is needed. An apology would be a good start.
Tudehope sees a worrying similarity between ICAC's treatment of Poole and Cunneen. Long after NSW Solicitor-­General Michael Sexton SC found that Cunneen had no case to ­answer, ICAC continued to ­display on its website a 622-word press ­release in which it accused her of attempting to pervert the course of justice.
That document was just as flawed as what it said about Poole and after prodding from this newspaper, it was removed. So why retain the report on Poole? Doing so merely raises suspicions about ICAC's motives.
"All that it can possibly be doing is continuing the damage to his reputation," said Tudehope. "That is the only possible conclusion. There is no educative effect in leaving up a report on someone where either the DPP or the ­Supreme Court has formed the view that the material on which ICAC is relying is not able to be proceeded on for jurisdictional reasons, or is unsafe," he said.
What ICAC did to Poole shows with great clarity that this agency has established itself as a parallel system of rough justice. It has imposed severe penalties for conduct that, at law, attracts no liability.
Here is how it worked:
Poole had been on the board of a private company in Singapore and was advised that under ­Singapore law he had to step down "because when they ­Googled me, the ICAC report came up and they questioned my character".
He was also advised that he would not be able to open a bank account in Singapore because of the ICAC report.
Back in Australia, the existence of the report meant he considered it best to voluntarily step down from the board of a charity, Rugby League Against Violence, that was raising money to fight domestic violence in Papua New Guinea. He was also its patron.
"I thought that mud sticks and did not want to damage the ­charity. And because (ICAC) have not come out and said 'sorry, we were wrong,' it's still the same," Poole said. "They want me to come back on the board, but that's not the point. It's about perceptions out there in the public."
ICAC's statement that it "accepts" the DPP's view overlooks the fact that Poole has been vindicated twice — once by the DPP on the criminal standard of proof, and once by the NSW Supreme Court on the lower civil standard.
Poole had sued his insurance company, Chubb, because it ­refused to pay the legal bills he had incurred before ICAC ­because ICAC had found him to be ­corrupt. The Supreme Court ­disagreed and ordered Chubb to pay up.
If ICAC were a court there might be some value in retaining a ruling that is at odds with the ­assessment of a higher court. But this organisation is merely an agency of the executive branch of government and its reports have no value as precedents.
In the case of the report on Poole, anyone reading it would be positively misled about the ­requirements of the law. For that reason alone, it should come down.
The great tragedy — for Poole, Cunneen and ICAC's other ­potential victims — is that this ­organisation seems completely unaware that its methods are ­nowhere near as robust as those of the mainstream justice system.
NSW Premier Mike Baird has repeatedly expressed the view that he has zero tolerance for ­corruption and he wants a robust ICAC.
The first step to achieving that goal will require ICAC to adhere to higher standards by adopting the same robust rules of evidence that apply to other parts of the ­justice system.
Doing nothing means ­maintaining a system of double standards in which more people will be pilloried for conduct that, at law, attracts no liability.
(WTF) Used by permission