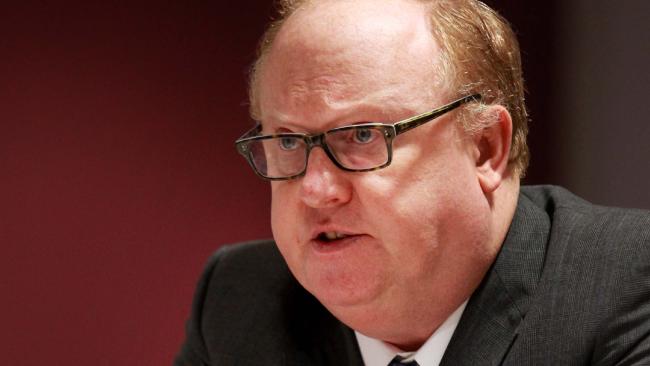 The NSW corruption watchdog's star barrister, Geoffrey Watson SC, has threatened powerful radio host Alan Jones with a defamation suit if he does not publicly apologise for calling him a "character assassin".
Mr Watson, the Independent Commission Against Corruption's senior counsel assisting, sent a legal letter to Jones on December 16 demanding he pull down from the 2GB website an interview where he describes the senior counsel as "this ego-tripping Geoffrey Watson" and says recent ICAC investigations are "one of the most disgraceful chapters in public administration".
"The hurt suffered by our client has been aggravated by his knowledge that the imputations carried by the broadcast are untrue and by the reckless and sensational language used by Alan Jones in the broadcast including the reference, in effect, to our client being a 'character assassin'," the December 16 letter from Mr Watson's legal team states. "Should you fail to comply with these demands, we will seek our client's instructions to commence proceedings for defamation against Alan Jones and Harbour Radio Pty Ltd without further notice."
Jones, who is on holidays, has not yet responded to Mr Watson's demands.
Mr Watson is famous for launching attacks against senior politicians in ICAC hearings, with many of his victims feeling he has unfairly tarnished their reputations. Jones's colleague on Sky News, Graham Richardson, said yesterday of Mr Watson: "A man who treats other people's reputations with such scant regard ought to have a thicker skin."
Mr Watson could not be reached for comment.
ICAC's architects Gary Sturgess, who set up the body for the Greiner government in 1988, and then attorney-general John Dowd, who had carriage of introducing the ICAC legislation into the NSW parliament, have voiced strong concerns about the untested allegations from ICAC's counsel assisting, which can cause reputational damage, sometimes unfairly.
Mr Dowd said ICAC had caused irreparable damage to innocent people with its hearings at times a spectacle for the media. He said ICAC's counsel was given "too much latitude" to ask questions that were "extravagant in nature" rather than simply trying to elicit facts.
"In some cases, irreparable damage has occurred both to innocent and non-innocent people. Not everyone who has been damaged is without blame, but this can be covered by a stronger protection during the hearings and by more hearings in-camera."
Jones launched an on-air tirade against the NSW anti-corruption body on December 10, criticising the role of Mr Watson and commissioner Megan Latham. "Their (ICAC) performance is such that many would argue, and I'd be one of them, that some of the architects of their behaviour, and that includes the commissioner, Megan Latham, and one of their counsel, Geoffrey Watson, should themselves be in the dock," he said.
Speaking of former police minister Michael Gallacher, who resigned from his role during an ICAC investigation, Jones said he had been "publicly humiliated by this mob Megan Latham and her character assassins".
In a follow-up interview with former Labor minister Ian Macdonald, he spoke of ICAC's "vilification" of people.
Jones's commentary also focused on revelations in The Australian of unlawful conduct at ICAC, including that it seized prosecutor Margaret Cunneen's phone without a search warrant and tried to cover up the mistake by securing a search warrant for a phone already in its possession.
He also spoke about how ICAC leaked her private text messages to her boss, the Director of Public Prosecutions.
Sharri Markson  – Senior Writer.
The Australian, January 21, 2016.
WTF (used with permission).