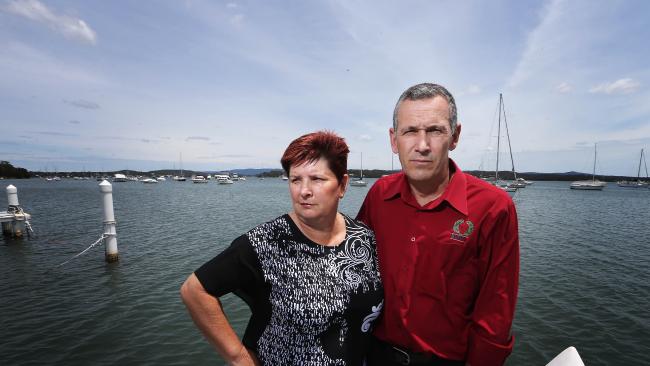 Murray Kear is the latest to join me as a member of the ICAC survivor's club: found innocent in court but not exonerated by this anti-corruption agency.
Kear, a former commissioner of the NSW State Emergency Service, has been exonerated by the NSW justice system after being accused of corruption by the state's trouble-prone Independent Commission Against Corruption. His description of how ICAC's false impeachment tore through his family and friends gave me flashbacks to when I was declared "corrupt" by ICAC 28 months ago.
I recall the day after the opening address by ICAC counsel assisting Peter Braham. The local Fairfax Media gave me a front-page photo and headline saying Poole "stole $18m from the state". One of my neighbours saw me at the shops and spun on his heel to ignore me. That is what being falsely accused is like. Kear's family has had to pay his legal defence from the family piggy bank, a cost I see reported at $160,000. My legal bill for my unsuccessful defence against ICAC was $658,745.
As with Kear, I also would prove later in the Supreme Court that ICAC suppressed exculpatory evidence in my favour. The widespread use of suppression orders prevents me from going into detail about ICAC's accusation here — or anywhere.
Unlike Kear, I had ­directors and officers insurance covering me for my legal costs but when my insurer saw ICAC declare me corrupt it used this as a pretext to not pay my legal costs. The only way out was to take the insurer to the Supreme Court and prove my innocence. The case ran for 16 days and cost me a further $1.9 million (which had to be found).
Not shouted from the rooftops by Fairfax was that my family won this case, proving in a real court that I was not corrupt. Even after that, ICAC left my name up on its website with the "corrupt" ­branding. My friends say this process has aged me 10 years in two. My family also had to bear the brunt of the smear in many ways, including fielding questions and harassing phone calls directly from ICAC.
After our win, we were paid back the full first $658,745 amount and eventually our insurer paid us back 82 per cent of the second $1,905,787 legal bill, leaving us out of pocket for $349,966, with two black years and myself with a destroyed career. Once a respected chief financial officer and entrepreneur, I now work in a supermarket to feed my family. The great companies we ­created in Doyles Creek Mining and its successor NuCoal Re­sources were destroyed after spending $5m on lawyers. As catastrophic as my personal situation is, it would pay NSW Premier Mike Baird to realise this is only the tip of the iceberg of the deep personal and economic ­impact wrought by ICAC and its recommendations.
In December 2013, commissioner David Ipp, wrongly in my view, recommended that NuCoal's licence be revoked. With our own cash investors, we had discovered a valuable coal resource with a proven value of $350m. The project was taken from NuCoal and its 3400 other shareholders, wreaking devastating economic effects on us and the many who had backed us to the hilt.
The bad news for Baird and the NSW Liberals is this: when Ipp recommended the cancellation, he also recommended compensation to innocent parties, namely the shareholders, such as myself. We had proven the $350m value of our project so this would have cost NSW that amount in payouts.
O'Farrell cancelled our exploration licence on January 30, 2014, after both sides of parliament mistakenly believed that NuCoal had been corrupt. Glibly, the legislation also indemnified the entire parliament and the state against compensation for this theft. But in the Poole v Chubb case against my insurer, the Supreme Court found I was not corrupt and that there was no evidence of any wrongdoing. So the NSW government owes the shareholders of NuCoal $350m, and it knows this.
Change is coming. NuCoal Resources has a 30 per cent stake held by US funds that are not very happy about being robbed of their project and investment. These shareholders will be mounting their claim under the 11-year-old Australia-US free-trade agreement. This treaty spells out that when the two countries invest in each other, stealing assets back just isn't on. The US parties aren't mounting a claim against NSW, their claim is against Australia.
You can imagine the call to Baird's office: "Hi Mike, it's Malcolm Turnbull here, I have a bill here on my desk from some American people who say Australia owes them about $100m for their stake in NuCoal. Apparently your government confiscated a coal project from them. We are compelled to pay this out forthwith so could I trouble NSW to please drop a cheque to us for that amount?"
Andrew Poole
Published in The Australian
(WTF- used with permission)