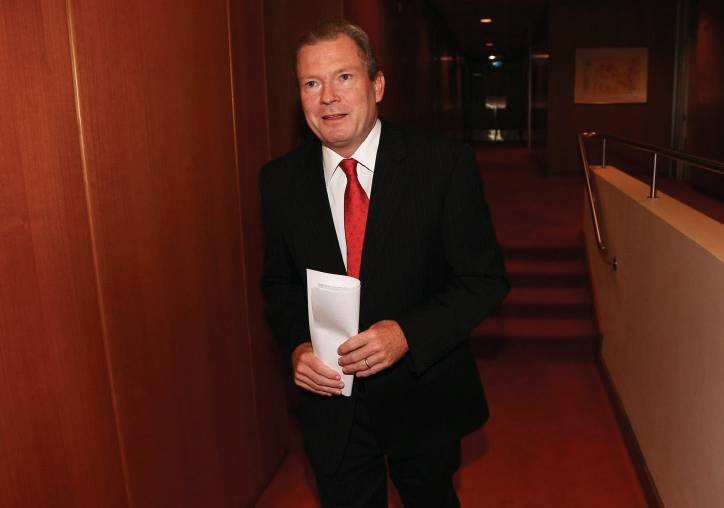 The NSW Independent Commission Against Corruption has been accused in state parliament of withholding exculpatory evidence that undermined the core of its corruption finding against jailed former Labor minister Ian Macdonald.
The Liberal Party's Peter Phelps told the state's upper house this week that key parts of the exculpatory material consisted of evidence given in private by former premier Nathan Rees that contradicts what Mr Rees later said in public at an ICAC hearing.
Mr Rees's private evidence, which seems to support Macdonald's version of events, was never revealed by ICAC, which produced a report to parliament that relies on the former premier's public evidence.
Dr Phelps said ICAC's decision to withhold the private testimony was not merely a mistake, but was evidence of a systemic problem over many years that required an investigation by parliament's ICAC oversight committee or some other committee.
A spokesman for Premier Gladys Berejiklian said she would not be providing a response.
The accusations against ICAC were made in a statement to parliament on Wednesday that questioned the basis for the commission's finding of corruption against Macdonald, criticised ICAC's former counsel assisting Geoffrey Watson SC, and rebuked former Liberal premier Barry O'Farrell for his response to ICAC's finding.
ICAC's flawed report on the affair had led to the unjustified expropriation of a coal exploration licence by the O'Farrell government that had stripped the assets of innocent people, Dr Phelps said.
"We stole it — there is no other word for it — for a base political reason," he said.
This is the latest in a series of public statements in which Dr Phelps has outlined the damage inflicted on property rights and investor confidence because of the expropriation of assets based on ICAC findings that were never tested in court. "I will not stop," Dr Phelps told parliament.
"I will not be silent until these people get justice and we remove this stain not only from the future budget bottom line, but also from the justice system of NSW."
Macdonald, who is a former mining minister, is serving 10 years in prison after being convicted last year of misconduct in public office over the allocation of a coal exploration licence at Doyles Creek to a company that had planned to establish a training mine.
Doyles Creek Mining had been led by former union official John Maitland who has been jailed for six years for being an accessory.
Dr Phelps told parliament that ICAC's claim of corruption against Macdonald rested on four points, all of which were false, and which formed the basis for the legislative expropriation of the Doyles Creek exploration licence without compensation.
At the time of the expropriation, the licence had been held by NuCoal Resources, a mining company with international and Australian shareholders that had bought the Doyles Creek project 14 months after the licence had been grated.
The fact that the expropriation was done by legislation, without judicial involvement, is at the core of concerns in the US that this incident means Australia has breached a free-trade agreement that promises to give American investments the protection of due process of law.
Dr Phelps told parliament that before the expropriation NuCoal had a capitalised value of $400 million, which had fallen to $20m after the government took its licence.
"In other words, it was a 95 per cent cut in the capital value of the company because Barry O'Farrell introduced legislation under the false claim that he was giving effect to the findings of corruption, which we now know in this instance at least, to have been substantially false, or at least highly compromised by the activities of ICAC itself," Dr Phelps said.
Two of the grounds for ICAC's finding against Macdonald were the allegations that he tried to cover up his wrongdoing by seeking third-party endorsement of the training mine, and that state cabinet should have made the decision to issue the licence instead of Macdonald who had been the minister responsible for mining.
Dr Phelps read into the Hansard record extracts from Mr Rees's private testimony to ICAC in which the former premier said the allocation of a licence for a training mine should "not necessarily" have gone to cabinet because "if it's a training mine you wouldn't expect significant royalties to be flowing from it".
"It is arguable that it, it didn't, it didn't, (sic) require formal cabinet consideration," says the transcript that was read by Dr Phelps.
Six months after giving this testimony in private, Mr Rees was asked at an ICAC public hearing if the training mine proposal should have been brought to cabinet.
He said: "In my view, yes … yes, you would bring that to a cabinet or a budget committee".
In another extract from Mr Rees's private testimony that was read into Hansard, Dr Phelps said the former premier said he had suggested to Macdonald that third-party endorsements should be sought for the training mine.
The transcript that was read into the record by Dr Phelps contains an exchange between Mr Rees and ICAC's former counsel assisting, Mr Watson, at a private hearing.
It shows that Mr Rees told Mr Watson that when he heard the case in favour of the training mine he concluded that it "stacks up".
According to the transcript of Mr Rees's private evidence, the former premier said "either myself or my office would have suggested 'well that stacks up, that's publicly defensible or defensible (sic) but why don't you get — see — if Macdonald and his people can get some third-party endorsements of this approach just in order to demonstrate its bona fide should this emerge as an issue'."
Dr Phelps told parliament that it was "utterly reasonable" for Mr Rees and his mining minister to obtain third-party endorsements so they would know the community wanted the training mine.
"The fact that ICAC took the reasonable directive of then premier Rees to then minister Macdonald as an example of how Macdonald tried to cover up the process is an example of how ICAC's blind, wilful and horrendous scalp-hunting completely overtook its view of this matter," Dr Phelps said.
He said ICAC and Mr Watson knew about what Mr Rees had said at his private hearing but did not use it in public hearings "because the testimony provides exculpatory evidence to Macdonald".
Mr Rees and Mr O'Farrell did not respond to invitations to provide a response to Dr Phelps' remarks.
'I will not stop. I will not be silent until these people get justice'
PETER PHELPS
LIBERAL PARTY
(WTF) – used with permission.