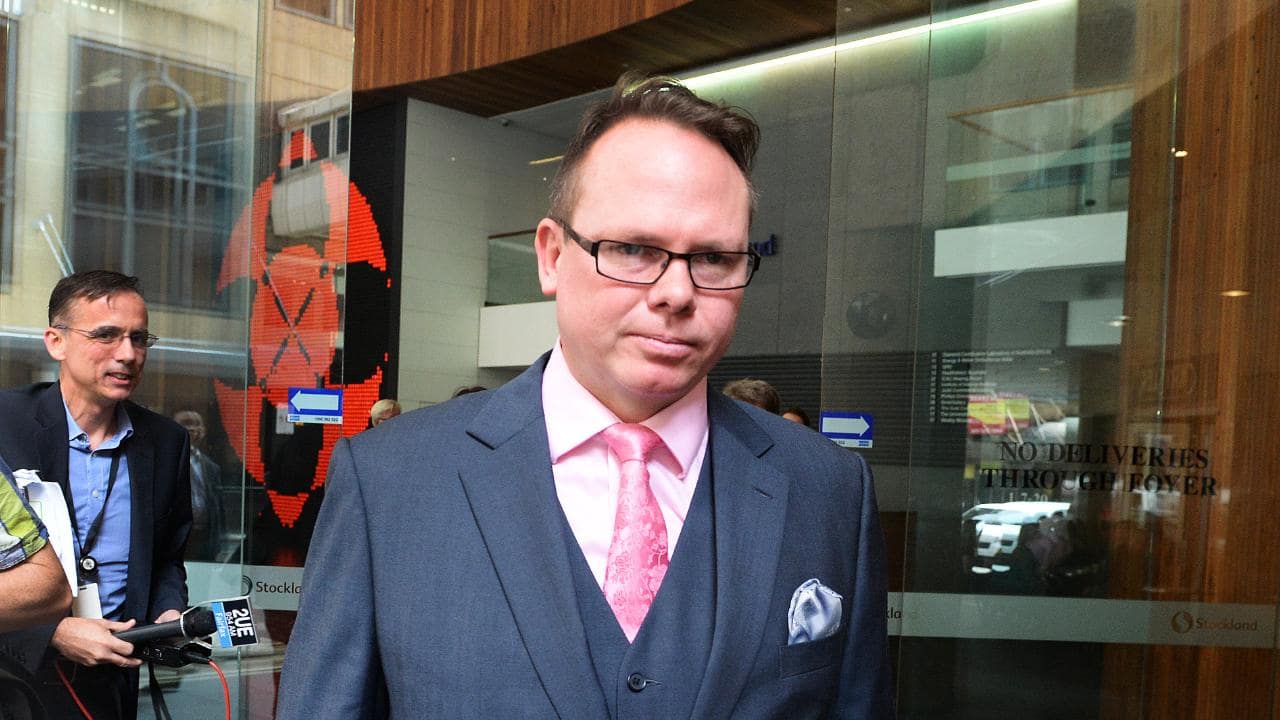 The NSW government's anti-corruption agency faces accu­sations of misleading parliament after evidence emerged showing it had failed to disclose that one of its most important reports ­relied on evidence from a brain-­damaged witness who had ­amnesia.
The witness, investment banker Paul Gardner Brook, has a cognitive impairment after a frontal lobe injury and is vulnerable to suggestions about whether events took place.
These assessments are outlined in a report signed by a psychiatrist and a psychologist who examined Mr Brook — also known as Gardner Brook — in 2012 after he gave evidence in private during one of the most important inquiries conducted by the Independent Commission Against Corruption.
The watchdog disclosed the medical report last month, ­almost five years after the commission presented parliament with a report from an inquiry known as Operation Jasper that praised Mr Brook's evidence and failed to mention his brain injury.
The report helped to persuade the parliament to approve legislation in January 2014 that expropriated coal-exploration licences issued by the previous Labor ­government.
Because one of the companies that was stripped of its licence has US shareholders, the NSW and federal government have become embroiled in a debate over whether this breaches a treaty guaranteeing US assets will not be taken without payment of prompt and adequate compensation.
ICAC's former counsel assisting, Geoffrey Watson SC, was asked by The Australian whether he and former ICAC commissioner David Ipp were aware of the medical report on Mr Brook. Mr Ipp was also invited to provide a statement for publication.
Neither man has responded, but there is nothing to suggest that ICAC's investigators brought the medical report to their attention or that they were aware it had been commissioned.
The identity of those responsible for commissioning and then suppressing the medical report is unknown but correspondence from the office of the NSW Director of Public Prosecutions shows that ICAC had the report and disclosed it to the DPP for the first time on March 14.
This came soon after ICAC Chief Commissioner Peter Hall ­issued guidelines for the commission's staff on the need to disclose exculpatory evidence at the commission's public hearings.
The past failure to tell parliament about the state of Mr Brook's mental health has triggered a ­furore over what appears to be the third occasion in which the anti-corruption commission has ­withheld information from parliament that could have undermined its reports from the coal inquiries.
The reports from these inquiries made no mention of evidence ICAC received in private from former premiers Nathan Rees and Kristina Keneally that was at odds with the commission's assessments that went to parliament.
Parts of the transcripts of their secret evidence have been read into the Hansard record of the Legislative Council by the ­Liberal Party's MLC Peter Phelps.
Dr Phelps said the fact ICAC's Jasper report made no mention of Mr Brook's mental health problems left him in no doubt that this agency of the executive branch of government had misled the legislature.
"I absolutely think parliament has been misled," Dr Phelps said.
"This is a pretty damaging development for the entire integrity of the Jasper report, which was presented to parliament as a ­factual and honest account of what happened in relation to Mount Penny (coal exploration) operations.
"It certainly in my view adds to the weight of evidence against what happened in ICAC in both operations Jasper and Acacia and the need for the parliament — members of parliament and the various committees of parliament — to look into these two operations with a view to correcting what appear to be obvious faults in the system."
In the Jasper report, Mr Ipp praised Mr Brook's evidence. "Broadly speaking, the commission formed a favourable view of Mr Brook and his evidence; he gave his evidence in a slow and careful way, and in a manner that was designed to be generally honest and accurate," he wrote.
"There were numerous instances where Mr Brook gave evidence against his own self-interest.''
ICAC disclosed the medical report to the DPP for use in criminal proceedings against jailed former politician Eddie Obeid, his son Moses Obeid and jailed former politician Ian Macdonald.
The report was signed by psychiatrist Munidasa Winslow and psychologist Julia CY Lam and is on the letterhead of the Winslow Clinic and Promises Healthcare of Singapore, where Mr Brook had been living.
It says he suffered a frontal lobe contusion when he fell and hit his head after a drinking binge in 2010.
"Since the head injury, he reported suffering from retrograde and anterograde amnesia," the report says.
Dr Winslow and Dr Lam wrote that Mr Brook had been given a brain scan, which had confirmed his cognitive impairment. "He also reported he found himself becoming more suggestible when there are things he is not sure of (e.g. if certain events have happened)," they wrote.
Mr Brook had been diagnosed with Asperger's syndrome when he was aged 10 but had not sought treatment. In 2012, he told the doctors who examined him he had slashed his arm with a knife during the Lehman Brothers' financial crisis in 2008.
Their report, which was completed just before Jasper's public hearings started on November 12, 2012, said Mr Brook could think more clearly since he had stopped drinking "but there are still things he cannot remember (as a result of the frontal lobe contusion)".
"In our opinion, his symptoms are consistent with someone suffering from a frontal lobe contusion and depression. He suffers cognitive impairment in speech and memory,'' they wrote.
"He would need more time to process information presented to him, to recall events that happened in the past, as well as to formulate appropriate responses when required.''
Before he was examined by Dr Winslow and Dr Lam, Mr Brook had given evidence to ICAC in ­private.
Details of that session that have since come to light show he admitted to Mr Watson he had lied about having a law degree and about having another degree from the Booth School of the University of Chicago.
Before the medical report was disclosed, ICAC's reliance on the evidence of Mr Brook had ­featured in several complaints rejected by the commission's independent inspector, Bruce McClintock SC.
Dr Phelps last year told parliament that Mr Brook had been shown to be a self-confessed liar and a fraud.
Chris Merritt
Legal Affairs Editor, The Australian
(WTF) used with permission